With the support of CNV, mine workers completed a course offered by the University of Magdalena on renewable energy and just transition in Colombia.
Following the return of mining titles by Glencore-owned Prodeco, thousands of coal workers found themselves unemployed. This was because there was no exit plan and retraining workers was not prioritised.
To address this issue, Sintramienergetica, Sintracarbón, CNV Internationaal, the Heinrich Böll Foundation, and the University of Magdalena joined forces. Their collective goal is to facilitate a just energy transition through labour reconversion. For this, they helped realise the first certified course in Colombia focused on energy transition. This course helps students undertake other productive projects in the mining sector.
A mine closure plan a key element in Just Transition
As a trade union organisation working towards the SDGs, CNV Internationaal helped develop the certified course in the module on "human rights, business and mine closure". The organisation highlighted the importance of international commitment and due diligence on mine closure as key elements to avoid negatively impacting human rights and to allow for a just transition.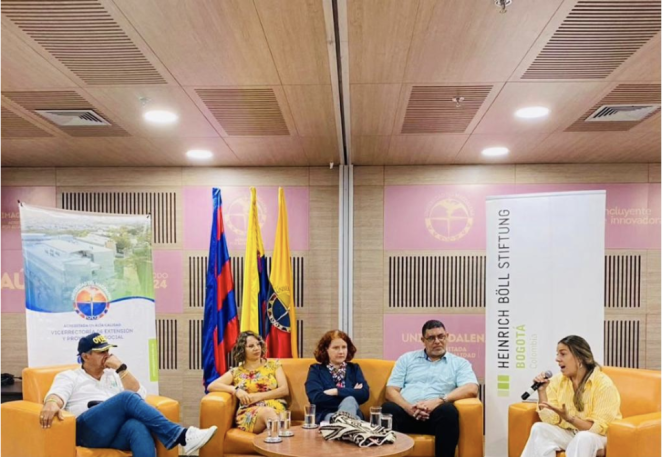 The value of a well-coordinated mine closure strategy becomes evident when it opens the door to a tripartite negotiation, allowing for the creation of a transition fund. This fund serves a crucial purpose: to provide financial resources for the retraining of workers leaving the coal mining business. Furthermore, it aims to actively foster sustainable economic diversification while addressing and mitigating the negative repercussions associated with the cessation of mining activities.
Innovative new paths for coal mine workers
Coal workers who took part in a sustainability certified course have showcased innovative projects, including a renewable energy cooperative and an initiative centred around mango-based products. This empowerment contributes significantly to fostering an equitable and sustainable transition in the region, thereby mitigating the adverse effects of coal multinationals' departure.
CNV Internationaal is dedicated to supporting this successfull certified course and will contribute to scholarships for both current and former mining sector employees.
Publication date 10 10 2023